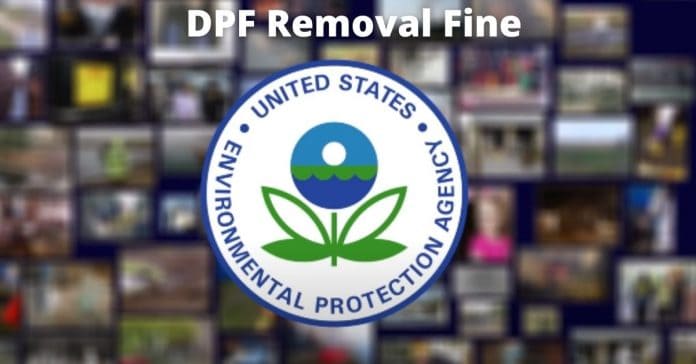 It all depends on the case, but it could run from a few thousand to millions. Consumer truck owners found guilty may bear a fine at a minimum of $2500 or up to $45,268 for each truck. An even larger company could be fined thousands to millions. **
The E.P.A. Has Set a Specific Fine For Anyone Caught With D.P.F.
Violators will receive a fine of up to $45,268 for non-compliant vehicles or engines, $4,527 for tampering events or sales of defeat devices, and $45,268 daily for reporting violations.
You may have noticed a dip in performance or increased fuel consumption due to your D.P.F.
You may be thinking about deleting your D.P.F., but you might also wonder what the penalty is for removing your D.P.F. filter.
The filter can clog, and you will need to enter the Re-Gen mode again to clean it, making it frustrating and expensive.
What is the E.P.A. Fine to Remove D.P.F. Filter?
According to Section203 of The Clean Air Act, it is illegal to remove, tamper or interfere with the deletion, knowingly or not, of the D.P.F. system on a truck.
It is illegal to hire a D.P.F. removal company to do this.
The E.P.A. fine varies depending upon several factors, including:
The intention to remove or alter the D.P.F.
The vehicle's weight
Mileage
A consumer truck owner would have to pay at least $2500 for a single truck, while a large company might be fined hundreds of thousands or even millions. California's D.P.F. violations led to a $400,000 fine for a truck carrier.
It is illegal to remove or make inoperative any device, element, or design installed on or inside a motor vehicle or engine under regulations under Title II of the C.A.A. before it is sold and delivered to the ultimate buyer.
It is illegal for anyone to manufacture, sell, and offer to sell, install, or modify any part or part intended for use with any motor vehicle or engine. The principal effect of any region or segment is bypassing, defeating, or rendering inoperative any device of design installed on or inside a motor-vehicle machine in compliance with regulations under this subchapter.
E.P.A. could assess a civil penalty of up to $3,750 on each applicable C.A.A. offence that occurred between December 6, 2013, and November 2, 2015. E.P.A. can also assess a $4,527 civil penalty for any functional C.A.A. offence that occurred after November 2, 2015.
Why Does The Law Restrict D.P.F. Delete?
Diesel Particulate filters remove many toxic materials from the exhaust of a diesel engine. These pollutants are 'burned away' through the engine's gradual operation instead of being emitted as exhaust fumes. Without a D.P.F., your car will emit more harmful gases than if it had one. Driving without a D.P.F. is now illegal to increase the eco-friendliness and sustainability of diesel cars.
You will be fined four figures if you are caught driving a car without D.P.F. installed. You will be disqualified from passing an M.O.T. test if your vehicle does not have a D.P.F. Many service centres will inform the DVLA.
Air Pollution
Understanding pollution is key to understanding why the government is so severe. According to the E.P.A., more than half of the U.S.'s air pollution comes from mobile sources. How can your truck pollute the air then?
Two primary pollutants are produced by diesel engines when they run. These pollutants include:
These pollutants are why there have been concerted efforts to control their emissions.
Emissions Control
Since 2001, systems for controlling emissions have been developed over the years. The EGR was the first system. Exhaust Gas Recirculation. The exhaust gases go through the combustion chamber, allowing them to combust and thus removing any pollutants entirely.
However, as the system runs overtime, it can get clogged, building backpressure, decreasing the engine's efficiency and higher fuel consumption.
The truck system detects and enters Re-Gen mode to clean the filter. This process can be unpleasant because it could limit your driving speed to 5 mph or cause the engine to stop. Next was the S.C.R. (Selective Catalytic Reduction), which works in conjunction with the D.E.F. (Diesel Exhaust Fluid).
The D.E.F. is made up of ammonia, which reaches the S.C.R. chamber. It reacts with Nitrous Oxides to make water and nitrogen.
E.P.A. charges $400k to a carrier for California emissions regulator violations. A Virginia trucking company was fined $100,000 by the Environmental Protection Agency and $290,000. To California for D.P.F. violations.
The E.P.A. fined E.P.A. and Edge Products $500,000 for D.P.F. violations. E.P.A., Edge Products was accused of manufacturing and selling electronic power modules for diesel engines, allowing Chevy, GMC, and Ford owners to delete D.P.F. from their pickup trucks (2007 and beyond).
Derive Systems was fined $300,000.00 for D.P.F. violations in tuning software. The E.P.A. also fined Derive Systems a total of $300,000.00 for selling tuning software that allowed D.P.F. violations, thus violating the Clean Air Act.
Alternatives to DPF Removal
This goal is to increase the performance of your diesel engine and gain more horsepower without having to alter the D.P.F.
You can attempt D.P.F. regeneration before going to D.P.F. deletion. You can also upgrade your vehicle at garages, which will do this for you and are DPF-friendly. You'll be able to get the performance and fuel efficiency you want without breaking the law.
List of Companies Fined by the E.P.A. (Updated 2020).
The E.P.A. publishes a list detailing the fines it issued to companies during the previous year. Individuals are sometimes exempted from public 'disparagement', but not always. Here's a list of companies named and the fines required to pay.
Volkswagen: Numerous lawsuits have been filed against Volkswagen by government agencies as the primary manufacturer of diesel-powered passenger cars. One example is $108 Million in Illinois.
Detroit Diesel Corporation: $ 14 million civil penalties.
GoPlus Corp: $17,600 penalty.
Ryan's Diesel Service L.L.C.: $19,950 penalty.
Edgewater Four Wheel Drive, Inc.: $14,247 Penalty
Mr Si Sun, Ricky Power Sports L.L.C.: $5000 Penalty
Schuch Heavy Lift Corp: $32,000 penalty.
Rathbun Musser Inc: $16,500 penalty.
Mr Victorio Monarrez: $1,200 penalty.
Bandit Industries Inc, $3 million civil penalties.
Husqvarna AB: $2.85 million civil penalty
Freerksen Trucking Inc.: $37,500 civil penalty
Moke America: $8,900 civil penalty
American Inc. New Flyer: $575,000 civil Penalty
It is illegal to alter or modify any part of the truck's emission system. It's not a federal or state law (although they exist). Customers often say that it's not a state or local law but that it's Federal law.
You can legally have your emission system taken out of your vehicle. However, recertification must be done by the manufacturer. A new emission label and certification must also be issued.
You can legally have your vehicle's emission system removed. However, recertification must be done by the manufacturer. A new emission label and certification must also be issued. It is not enough to sign a piece of paper and declare that your engine has been recertified. Your engine would have to be recertified by the original equipment maker.
There are three options available to you if your D.P.F. is blocked. The first is to remove the D.P.F. and pay a heavy fine. This one is out of the question. Let's move on. Option two involves cleaning it and restoring it to its factory condition. Option three is replacing it.
D.P.F. Cleaning Express offers D.P.F. Cleaning, restoration, and Replacement services to thousands upon thousands of motorists across the U.K. each year. Our expert technicians can restore your D.P.F. filter to its factory condition at a fraction of what main dealers charge.
Our TerraClean technology can quickly and easily remove any trace of waste material from your D.P.F. filter
Resolved Cases
The E.P.A. has handled more than 30 cases involving more than 1,000,000 aftermarket defeat devices in the last few years.
Abbyland Trucking  Service truck repairs center and refrigeration transport company in Wisconsin sold and installed defeat products.
Freerksen Trucking Minnesota trucking firm removed emission controls. It modified its trucking fleet  E.C.M. Tuning products that bypass, defeat or render inoperative emission control devices, including D.P.F.s and S.C.R.s 22 heavy-duty diesel trucks.
Conclusion
For better D.P.F. performance, look for better alternatives or preventive maintenance strategies like Hot Shot's Diesel Extender Additive.
Diesel particulate matter is effectively prevented from entering the environment by the Diesel Particulate Filter. The E.P.A. can impose fines starting at $2500 per truck whose D.P.F. has been altered or removed.
Companies face higher penalties depending on their income or intent. Instead of running the risk of breaking the federal law, contact your local garage or dealership and have them perform DPF-friendly upgrades. Don't D.P.F. Delete!